Chevrolet Spark Owners Manual: Steering Wheel Controls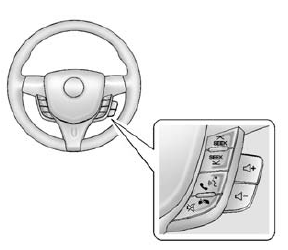 If equipped with audio steering wheel controls, some audio controls can be adjusted at the steering wheel.
SEEK or SEEK


(Next/ Previous): Press to go to the
next or previous radio station, song on an iPod®, or file on a USB device (if equipped).

(Push to Talk): If equipped with
Bluetooth or OnStar, press to interact with those systems. See Bluetooth (Overview) on page 7-19 or Bluetooth (Infotainment Controls) on page 7-21 or OnStar Overview on page 14-1.

(Mute/End Call): Press to silence
the vehicle speakers only.
Press again to turn the sound on.
If equipped with OnStar or Bluetooth systems, press to decline an incoming call, to end speech recognition, or to end a current call.

+ or


- (Volume): Press + or - to
increase or decrease the volume.
Horn
Press

on the steering wheel pad
to sound the horn.