Chevrolet Spark Owners Manual: Driver Assistance Systems
Rear Vision Camera (RVC)
If equipped, the RVC system can assist the driver when backing up by displaying a view of the area behind the vehicle.
Warning
The camera(s) do not display children, pedestrians, bicyclists, crossing traffic, animals, or any other object outside of the cameras' field of view, below the bumper, or under the vehicle.
Shown distances may be different from actual distances. Do not drive or park the vehicle using only these camera(s). Always check behind and around the vehicle before driving. Failure to use proper care may result in injury, death, or vehicle damage.
How the System Works
When the vehicle is shifted into R (Reverse), the image of the area behind the vehicle appears in the radio screen. The previous screen displays when the vehicle is shifted out of R (Reverse) after a short delay.
To see the previous screen sooner, do one of the following:
Press a button on the infotainment system.
Shift into P (Park).
Guidelines
The RVC system may have a guideline overlay that can help the driver align the vehicle when backing into a parking spot.
To turn the guidelines on or off:
Shift into P (Park).
Press the Home button on the infotainment system.
Select Vehicle Settings, then Rear Camera Option.
Select Guidelines On or Off.
Rear Vision Camera Error Messages
SERVICE REAR VISION CAMERA SYSTEM: If this message appears in the infotainment display, the system may need service.
If any other problem occurs or if a problem persists, see your dealer.
Rear Vision Camera Location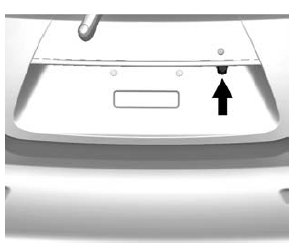 The RVC is above the license plate.
Displayed images may be farther or closer than they appear. The area displayed is limited and objects that are close to either corner of the bumper or under the bumper do not display.
The following illustrations show the field of view that the camera provides.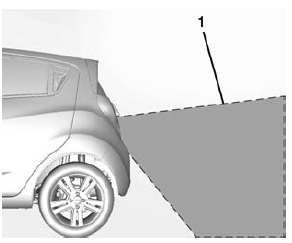 View displayed by the camera.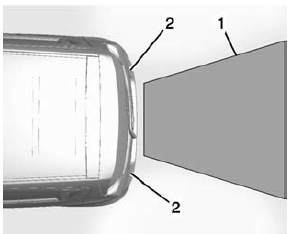 View displayed by the camera.
Corner of the rear bumper.
When the System Does Not Seem To Work Properly
The RVC system may not work properly or display a clear image if: