Chevrolet Spark Owners Manual: Bluetooth (Overview)
If equipped with Bluetooth® capability, the system can interact with many Bluetooth phones, PDAs, or other devices to:
Place and receive hands-free calls.
Transmit hands-free data.
Play audio streaming files.
The device must be paired first. See "Pairing" under Bluetooth (Infotainment Controls) Bluetooth (Overview) on page 7-19 or Bluetooth (Infotainment Controls) on page 7-21.
To minimize driver distraction, before driving, and with the vehicle parked:
Become familiar with the features of the cell phone.

Organize the phone book and contact lists clearly and delete duplicate or rarely used entries.

If possible, program speed dial or other shortcuts.

Review the controls and operation of the infotainment system.
Pair cell phone(s) to the vehicle.

The system may not work with all cell phones. See "Pairing" in this section.

See "Storing and Deleting Phone Numbers" in this section.
Warning
When using a cell phone, it can be distracting to look too long or too often at the screen of the phone or the infotainment system.
Taking your eyes off the road too long or too often could cause a crash resulting in injury or death.
Focus your attention on driving.
Vehicles with a Bluetooth system can use a Bluetooth-capable cell phone with a Hands-Free Profile to make and receive phone calls. The infotainment system is used to control the system. The system can be used while in ACC/ACCESSORY or ON/RUN. See Retained Accessory Power (RAP) on page 9-18. Not all phones support all functions and not all phones work with the Bluetooth system. See www.gm.com/bluetooth for more information about compatible phones.
There may be restrictions on using Bluetooth wireless technology in some locations.
Due to the variety of Bluetooth devices and their firmware versions, the device may respond differently when performing over Bluetooth.
Refer to the cell phone manufacturer's user guide for questions about the phone's Bluetooth functionality.
Bluetooth Controls
For vehicles equipped with Bluetooth capability, use the buttons on the infotainment system and the steering wheel to operate the system.
Steering Wheel Controls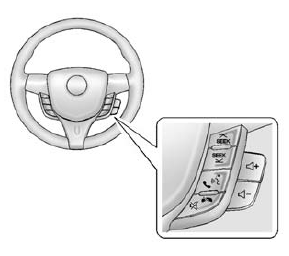 SEEK or SEEK


(Next/ Previous): Press to go to the
next or previous radio station, song on an iPod, or file on a USB device (if equipped).

(Push to Talk): Press to interact
with Bluetooth or OnStar, if equipped. See Bluetooth (Overview) on page 7-19 or Bluetooth (Infotainment Controls) on page 7-21 or OnStar Overview on page 14-1.

(Mute/End Call): Press to silence
the vehicle speakers only.
Press again to turn the sound on.
Press to reject an incoming call, or end a current call.

+ or


- (Volume): Press to increase or decrease
the volume.
Audio System
When using the Bluetooth system, sound comes through the vehicle's front audio system speakers and overrides the audio system. Use the volume bar during a call to change the volume level. The adjusted volume level remains in memory for later calls. The system maintains a minimum volume level.