Chevrolet Spark Owners Manual: Air Vents
Adjustable air vents are in the center and on the side of the instrument panel.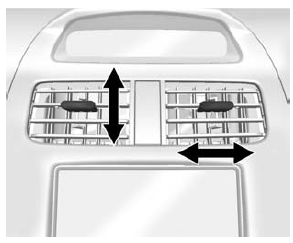 Move the slats to change the direction of the airflow. The center air vent does not close completely.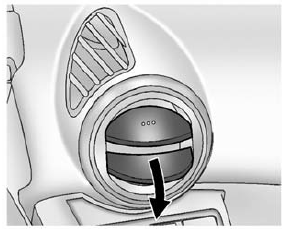 Press the cover of the side air vents to open. Turn open slats clockwise or counterclockwise to direct airflow as needed. Close the cover to stop the airflow.
Additional air vents are located beneath the windshield and the driver and passenger side door windows, and in the footwells.
These are fixed and cannot be adjusted.
Operation Tips
Clear away any ice, snow, or leaves from air inlets at the base of the windshield that could block the flow of air into the vehicle.
Keep the path under the front seats clear of objects to help circulate the air inside of the vehicle more effectively.
Use of non-GM approved hood deflectors can adversely affect the performance of the system.

Check with your dealer before adding equipment to the outside of the vehicle.